Welcome!



Trinity is a small, friendly church located at the corner of Second and Saratoga Streets in Fillmore, California. We gather on Sundays to worship God, to affirm our unity in Christ, and to be renewed for ministry in the Church and in the world.

Worship is central to the life and ministry of the Episcopal Church. At Trinity, Holy Eucharist (Mass) is on Sunday mornings at 9:00.

Children are welcome at our services. We also provide a separate children's service and child care for younger children.

We are pleased to offer the Catechesis of the Good Shepherd as part of our Christian education program. Please contact the church office for details.


LENT, HOLY WEEK, & EASTER
Explore the Abrahamic Religions with us this Lent, as we
gather to watch a series of short videos on the history and
beliefs, followed by discussions over a pot-luck soup supper.
Wednesdays at 6:30 pm in the Parish Hall.
March 12 :
Islam, Part 1
March 19 :
Islam, Part 2
March 26 :
Judaism, Part 1
April 2 :
Judaism, Part 2
April 9 :
Christianity
April 13, 9:00 am :
Palm Sunday Service
April 17, 7:00 pm :
Maundy Thursday Service
April 18, 12:00 noon :
and 7:00 pm
Good Friday Services
April 19, 8:00 pm :
THE GREAT VIGIL OF EASTER
April 20, 9:00 am :
EASTER SUNDAY SERVICE

Please click on Calendar in the main menu to see our detailed schedule.

May the Peace of Christ be always with you!

The Rev. Lawrence M. Brown, Rector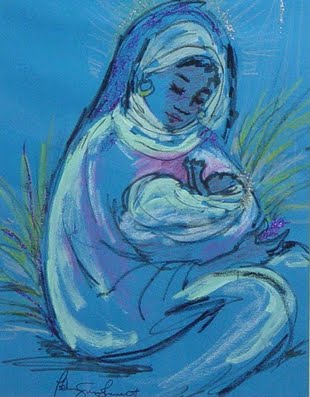 Blue Madonna and Precious Child
by former rector Patricia Bennett.
Whoever you are and wherever you find yourself in your journey of faith, you are welcome at Trinity Church, an open and affirming congregation.



We proudly support the following charities